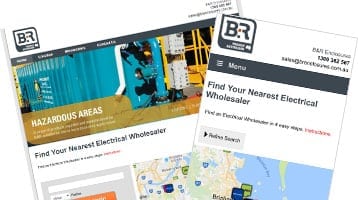 In the B2B marketing world we have a different experience to that of a typical B2C site. A B2B customer is far more task oriented. They want to get into the site, find what they need and get out as quickly as possible. Typically once you have attracted a customer as a site owner you want to keep them for as long as possible to maximise the 'customer lifetime value'.
Optimising your site can make sure your customers get what they need, when they need it, and allow them to contact you when they need to do that too.
If your system is optimised for a B2B customer, you stand more chance on getting specified or getting first bite at an order.
Reduce the load on you and on internal sales, whilst at the same time making customers happier. By providing easy to find information on a product or service on your website, you will reduce the calls asking for that information. Even better, if you are getting requests, feed that back into to system so that appropriate content can be made live and/or navigation tweaked to make it easier to find.
End users are coming back to manufacturers more and more for information. You have probably done this yourself. If you go in to a store or wholesaler often the salesperson doesn't have a clue about the products you are looking at, so what do you do? Jump on the web and look at the manufacturers website. If that website is easy to find, convincing and provides the information you, as a customer, want quickly and easily, chances are that is the product the customer will buy. You may even be able to drive clients back to the suppliers, which will keep them happier to stock your product.
Make sure your business customers come back by giving them quick and easy access to what they want. A well designed site will be used in preference to a poor site with all else being equal.
By optimising your website, you will drive sales through your end-users as well as attracting more business customers.
Example Site
Electrical-Wholesaler is a leading site for B2B customers to find the most convenient electrical wholesaler to their location or job site. The site was set up as both an advertising system for an electrical equipment supplier, but also helps to gather information on what customers want and where. This helps both the site owner and their wholesalers.
On this site optimising the mobile experience was very important with more than half the site visits coming from mobile. The site has been through various iterations to arrive at what we now think is the optimum solution, with local wholesalers being displayed on a map on the home page and explanatory copy now hidden, but still available if it is required.